New Accessible Materials Made Right (AMMR) Lead
Greetings! I'm Joel Selby, the new lead for the Accessible Materials Made Right (AMMR) project. I've been working with document accessibility and the AMMR project since 2016 when the Muskegon Area Intermediate School District (ISD) received notification of an accessibility complaint via the federal Office of Civil Rights (OCR) and we all got to work figuring out what this was all about. (I'm excited to share that MAISD's accessibility complaint was officially cleared in the spring of 2021, after a successful website audit, thanks to the tireless efforts of our web and social media manager, Pam Jackson.)

I am stepping in to take over for Peter Schaafsma, from whom I learned a lot back in 2017 when I attended his two-day AMMR workshop, in addition to numerous retreats, training sessions, and Zoom meetings over the years. For the past nine years, I have served as the special projects manager in the Instructional Services department for the Muskegon Area ISD. This role was quite vast in its inclusion of arts, technology, and certification/registration responsibilities (a unique set of things I pulled together myself over the years). As I start this role with Alt+Shift, I am also beginning a whole new phase of my career at the MAISD as I transition over to the Technology Services department and join our PowerSchool support team.

I'm excited to continue our collaborative efforts to improve the accessibility of our materials both for students and our communities! I hope you'll join us on November 18, 2021 from 4:30 to 5:30 p.m. for the first of our next, monthly AMMR user group meeting. Register for the November AMMR user group session.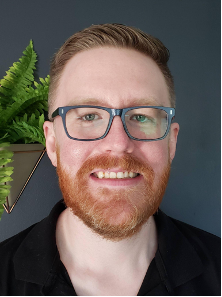 Joel Selby, lead for the AMMR course.