Pragmatic Organization Dynamic Display (PODD)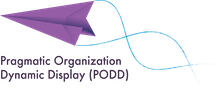 PODD is an augmentative and alternative communication (AAC) tool that organizes vocabulary to support expression and comprehension for individuals with complex communication needs. Language is organized in a practical layout that requires minimal page turns to communicate. 
PODD is available as low tech communication books or supported through multiple high tech software companies. PODD can also be modified to accommodate students with various complex communication, physical, and sensory needs. 
Participants are taught how to:
Select, customize, and use PODD communication books 
Demonstrate language as a communication partner using PODD
PODD introductory training is offered as a statewide training or through the Building Blocks to Autonomous Communication.
PODD was developed by Gayle Porter, a speech language pathologist based out of Australia.
PODD Book Formats

PODD communication books serve as a non-electronic (paper) option for AAC users to communicate in places that may be challenging for high tech devices (e.g., in pools, outside when it is sunny, in various climates, etc). 

PODD is not designed to be the only AAC tool an individual uses, but rather one tool in someone's 'toolbox of communication methods' that is useful all the time. While many people know it as a non-electronic communication book, PODD is also available on electronic devices through multiple software companies (AssistiveWare, TobiiDynavox, Grid, Jabbla, etc).
Individualizing PODD Books

PODD communication books can be modified to fit even the most complex AAC users. In addition, each AAC user has their own communication preferences and skills. For these reasons, PODD books can take on different formats, depending on the individual's physical, sensory and communication needs.
Language Development through PODDs

This low tech option also allows emergent communicators to learn the cause and effect of communicating through selecting a button and having a communication partner turn a physical page, instead of ending up on a page of words and not knowing the sequence of how one arrived there.
Why Try Something New?

All learners have the right to understand others and to be understood. The aim of a PODD is for an individual with complex communication needs to meet their varied communication requirements as:

Intelligibly
Specifically
Efficiently
Independently and 
In as socially valued a manner as possible 

By providing a robust language for use in many environments, for multiple communicative purposes, across a range of topics, AAC users are enabled to more fully and effectively participate in a variety of social roles.
Evidence Base
Purchase PODD Communication Books Through Alt+Shift
Individuals who have attended a two-day introductory training and own the PODD software may purchase PODD books from Alt+Shift. Individuals who have attended the one-day Alternative Access PODD training may also purchase from select eye gaze and partner assisted visual scanning books. Additional selections will be released as they are available.
PODD software is currently available for individuals who use direct access (i.e., pointing). Interested individuals or ISDs can purchase the Direct Access Templates through Boardmaker. 
Software for creating and customizing PODD books involving alternative access methods (e.g., eye gaze, partner assisted visual scanning) is not yet available in the US; however, interested individuals or ISDs can purchase an international copy (i.e., on A4 paper, with international vocabulary) through the Cerebral Palsy Education Centre (CPEC) or Spectronics websites.